In addition to restoring vintage vehicles, we've decided to add some wonderful collectibles to our collection that shouldn't be missing from any guy's garage.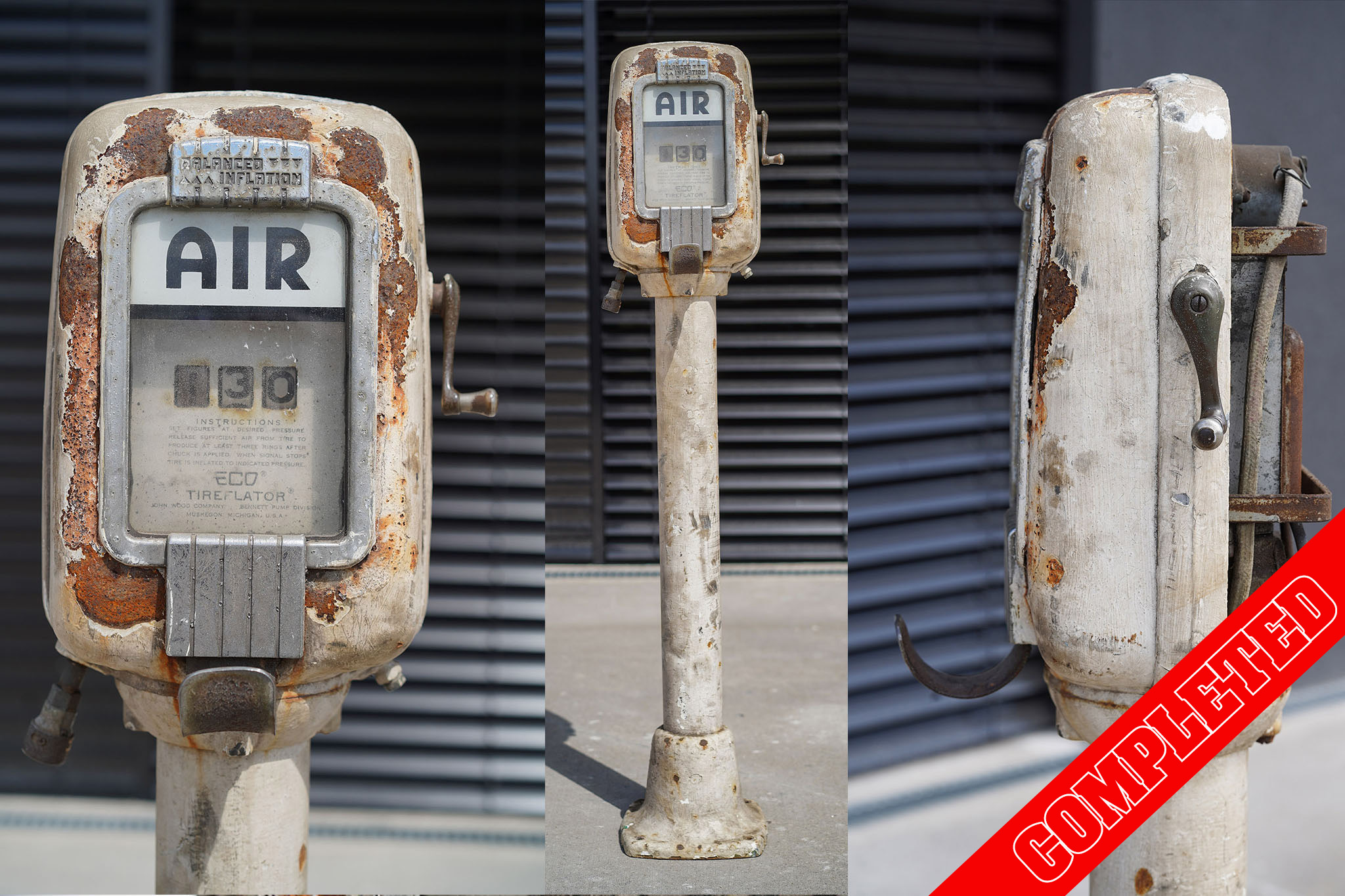 Country of manufacturer: USA, Muskegon, Michigan

Producer: John Wood Company, Bennett Pupm Division

Color: Green (probably)

Functionality: fully functional

Type: air meter, model 98

Year of manufacture: 1950

Condition of restoration: partial restoration
Story:
We managed to get this air meter from the USA from Scranton (Pennsylvania). We are very excited about it, as it will be very useful in our collection of refueling stands. The air gauge was in pretty bad shape. It was painted all over with white paint which did not do it justice at all. You could clearly see the brush strokes as this paint was applied. The white paint had changed over time and was starting to fade. The beautiful chrome parts had also lost their shine. Deep rust can be seen on several sheet metal parts. The metal plate on the back was covered by inaccurate painting in places when painted.
No part of the air meter is missing, which is very important to us. We plan to restore it nicely and you will certainly be able to see it at our facility or at some shows such as car shows, etc.
Such meters/stands were commonly used in the 1950's in various service stations and gas stations.
ECO Air Meters – Originally called Economy Air Meters, and then shortened to ECO air meters, these vintage petroliana items were first introduced around 1917 by the Western Manufacturing Company of Oskoloosa, Iowa. In 1928 the John Wood Company purchased the ECO division of Western Mfg. moving production to their factory in Bryon, Ohio. In 1930 the John Wood Company acquired the Bennett Pump Company and they moved production again to Muskegon, Michigan. That same year new ECO Air Meters were introduced, called the ECO 39 series. In 1947 the most popular model, the 90 series, of balanced inflation ECO Air Meters was introduced. This air meter – that operates not by electricity but by air pressure – was available as a standing pedestal version, a wall mount versions, and available with a coin operated mechanism. The John Wood Company still produces many products today, however the ECO division was discontinued.
Renovation is scheduled for 2023.